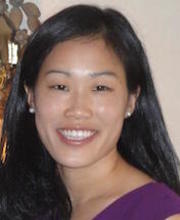 Kelly Burke, MD, PhD is an outstanding physician-scientist working to harness the immune system to attack gastrointestinal cancers.
Born in South Korea and raised in Minnesota, Kelly attended Kenyon College where she majored in chemistry. She attended Johns Hopkins School of Medicine where she earned her MD and PhD in Immunology. She completed her residency in Internal Medicine at the Massachusetts General Hospital and is currently a hematology/oncology fellow at the Dana Farber Cancer Institute/Partners Cancer Care Program.
Kelly is conducting her post-doctoral research in the lab of Arlene Sharpe, a noted T cell immunologist at Harvard Medical School, where she uses mouse models to study mechanisms of immunotherapy and ways to develop long-lived durable immune responses against cancer.
Outside of work, she loves running, traveling, eating good food, and spending time with her husband and infant son.
Since 2004, the Perry S. Levy Fund for Gastrointestinal Cancer Research at Dana Farber Cancer Institute has had the proud honor of appointing a Fellow at the Gastrointestinal Cancer Center (GCC) at Dana Farber. The team's fundraising supports the fellow's annual salary as well as research efforts at Dana Farber. Click here to read about all our Fellows.